Wordpress

WordPress is web software you can use to create a beautiful website or blog. It provides thousands of plugins and themes to transform your site into almost anything you can imagine. Over 60 million people have chosen WordPress to power the place on the web they call "home".

Here are just a few examples of Web sites that use Wordpress:

Our Websites →

Joomla

Joomla is an award-winning content management system (CMS), which enables you to build Web sites and powerful online applications. Many aspects, including its ease-of-use and extensibility, have made Joomla the most popular Web site software available. Best of all, Joomla is an open source solution that is freely available to everyone.

Here are just a few examples of Web sites that use Joomla:

Our Websites →

Web Development Technologies PHP

is a server-side scripting language.

MySQL

is a popular choice of database.

HTML

is used to create web pages.

CSS

is used to style web pages.

jQuery

is a cross-platform

JavaScript

library.

AJAX

is Asynchronous JavaScript and

XML

.

JSON

is used to transmit data between a server and web application.

Here are just a few examples of Web sites that use these technologies:

Our Websites →
Which CMS to choose ?
A content management system (CMS) is a website or an application that allows publishing, editing and modifying content, organizing, deleting as well as maintenance from a central interface.
Web-based Content Management Systems have become one of the internet's most powerful website tools.
CMS's are often used to run websites containing blogs, news, and shopping. Many corporate and marketing websites use CMS's. CMS's typically aim to avoid the need for hand coding, but may support it for specific elements or entire pages.
In a market where websites need to be built faster and easier, many organizations and individuals are turning to Open Source CMS to get the job done. Unfortunately, there are now thousands of CMS's floating around the web and finding the right one has become somewhat difficult.
This flowchart shows how one can find the right CMS for any occasion.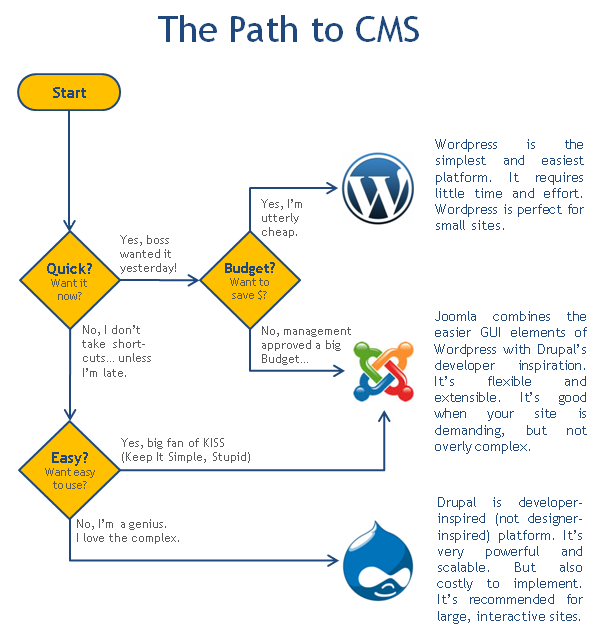 Lorem ipsum dolor

Pellentesque habitant morbi tristique senectus et netus et malesuada fames ac turpis egestas. Vestibulum tortor quam, feugiat vitae, ultricies eget, tempor sit amet, ante. Donec eu libero sit amet quam egestas semper. Aenean ultricies mi vitae est. Mauris placerat eleifend leo. Quisque sit amet est et sapien ullamcorper pharetra.

Read more →

Lorem ipsum dolor

Pellentesque habitant morbi tristique senectus et netus et malesuada fames ac turpis egestas. Vestibulum tortor quam, feugiat vitae, ultricies eget, tempor sit amet, ante. Donec eu libero sit amet quam egestas semper. Aenean ultricies mi vitae est. Mauris placerat eleifend leo. Quisque sit amet est et sapien ullamcorper pharetra.

Read more →

Lorem ipsum dolor

Pellentesque habitant morbi tristique senectus et netus et malesuada fames ac turpis egestas. Vestibulum tortor quam, feugiat vitae, ultricies eget, tempor sit amet, ante. Donec eu libero sit amet quam egestas semper. Aenean ultricies mi vitae est. Mauris placerat eleifend leo. Quisque sit amet est et sapien ullamcorper pharetra.

Read more →
Training Keywords
If you are looking for one of the followings then you're at the right place:
Best Way To Learn PHP
Best Way To Learn Web Development
How To Learn HTML
How To Learn PHP
HTML Learn
Joomla Training
Learn HTML
Learn HTML 5
Learn HTML And CSS
Learn HTML Online
Learn Joomla
Learn PHP
Learn PHP Online
Learn Wordpress
AJAX Training
How To Learn Wordpress
Jquery Learn
Learn AJAX
Learn CSS
Learn Jquery
Learn Mysql
PHP Learn
Learn Web Development
Online Web Development Courses
Web Developer Courses
Web Development Course
Web Development Courses
Web Development Training
Wordpress Classes
Wordpress Course
Wordpress Training